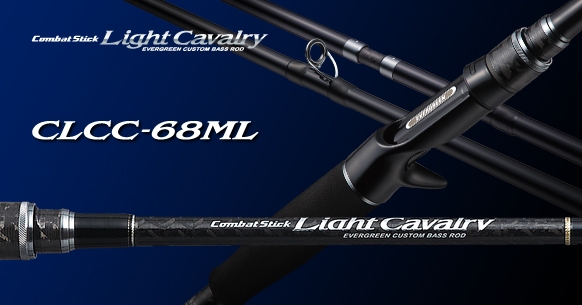 Covers a wide range of bait finesse and light plugging.

A supple, smooth, fast taper medium light power blank.
Light game special with super light semi-micro guide setting with little line play against blanks and excellent sensitivity and synergistic effect with short grip.
From bait finesse to light plugging, it covers a wide range of spinning and bait casting boundaries.
Blanks
By using different materials for the tip section and bat section, an action design with the flexibility of a two-piece design has been realized. The tip section is made of a normal resin amount of carbon material and the bat section is made of a low-resin material with a sharp and firm texture for delicate operation and flexibility. In addition, the butt part is reinforced with 40t carbon and 4-axis cross to improve rigidity. Demonstrate the strong and powerful bat power that inherits the combat stick spirits. Calm coloring with blue pearls on black.

Guide system

Semi-micro K guide setting that takes advantage of the characteristics of blanks and provides light operability. The top guide is compact and uses the LG top guide that has little thread distortion. A threadless design that is particular about weight reduction is applied to take steps.

Joint

High-grade spigot joint (inlay joint) is used for the joint. Natural bend curve, excellent transmission power of sensitivity and power. In addition, the metal ring placed before and after the joint contains dots that serve as a guide when connecting the rod.

* The joint part is designed to drill about 7mm to prevent loosening. Please note that excessive insertion or insufficient insertion may cause unexpected trouble. (The gap may change depending on usage conditions.)

Reel seat design

A lightweight and compact blank touch Fuji ECS reel sheet is used. Thorough black polish coloring.

Grip design

A front grip-less design that allows direct touch and a separate-type rear grip realizes significant weight reduction and light operation. The grip material uses EVA, which has excellent durability. Equipped with Evergreen original end plate at the grip end.

Full-fledged 2-piece rod that the times demand.
Combat stick light cavalry. 

Combat stick "Light Cavalry" series. 
Length setting that promises an advantage in Okappari. 
Each item has a high adaptability for a wide range of applications. 
A blank with high combat power that has been infused with combat sticks and spirits. And that is 2 pieces.

In the one-piece bass rod market, she loves fishing, but the fact that anglers are worried about transporting and moving rods. A sad choice to compromise with an inexpensive two-piece rod or to give up fishing because you like serious fishing. But I really want to enjoy fishing in earnest.

In order to respond to the problems of anglers, Evergreen has put in the know-how of rod making and has created a two-piece rod series that has the same potential as one piece and satisfies full anglers.

To Noike's Langan. Accompanying the trip. It's also good to have a car trunk. A two-piece rod series that allows you to enjoy fishing in earnest, 
free from the hassle and trouble of transporting rods such as trains, airplanes, and light cars. Combat stick light cavalry.