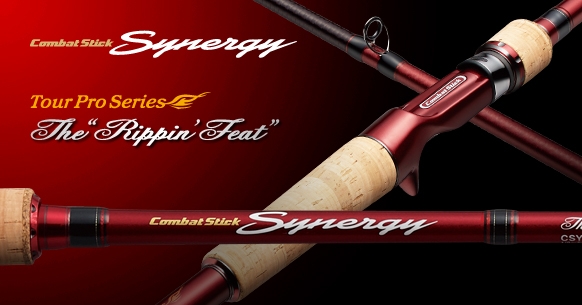 Long length & short grip.
A new era of operation-related specials created from actual battles.

6 feet 10 inches designed based on the most advanced concept fed back from the world's highest stage, unique long-length operating rod, Rippin feet.
The biggest advantage of long-length operation is that you can easily produce plenty of line slack that can be used for handling lures such as jerk baits and top water baits. In other words, the long rod can move the lure easily. The difference is clear especially with long-distance operation.
On the other hand, when hooking, it is necessary to take the line slack while winding the reel quickly, but with the stroke unique to long length, it is possible to convey the hooking power firmly without worrying about a little line slack.
Of course, it's only natural that it doesn't have to be long. A separate type short grip that creates a comfortable feeling of operation. The grip end does not interfere with the operation, and the rod balance is ideal for jerking, where the tip of the rod can be lowered naturally.
In addition, the blank design and guide setting that quickly converges the blurring of the rod after jerking suppresses blank blurring when the rod, which is likely to be a flexible long rod, is swung. Since the rod can be stopped firmly without applying extra force, sharp jerking is possible, and at the same time, there is no blurring of the rod with line slack coming out during pause, so noise It has the sensitivity to catch atari without being disturbed.
Because of these excellent characteristics, Rippinfeet handles not only hard baits but also soft baits such as worms and rubber jigs at a high level. Everything from long throw performance to operability, sensitivity, and hooking performance. A long-length and short grip that was born out of a calculated balance setting. Here comes the new era of operating rods.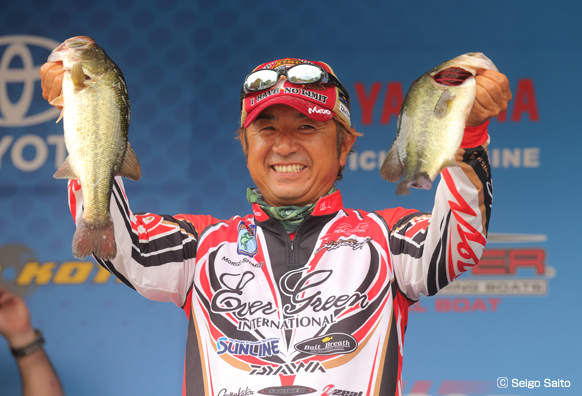 <Supported lures & rigs>
Jerkbait / Top water / Vibration / Shallow to middle crankbait / Spinnerbait buzzbait / Braided jig / Light Texas rig / Heavy drop shot rig / Carolina rig / Finesse rubber jig etc…
blank
Realizing the high-level requirements of Morizo ​​Shimizu through integration with Daiwa Technology . Reinforce the top guide to # 6 guide with 45 ° fiber "X45 (X-Forty Five)" which is strong against twisting. In addition, the bottom bat from the # 6 guide is reinforced with a three-axis honeycomb fabric "3DX" that is resistant to slipping. The synergistic effect of the main material that governs the tone of the rod and the technologies "X45" and "3DX" provides both power and lightness. In addition to hooking performance and lifting power, cast distance & accuracy and operability are greatly improved.

Guide system

While adopting the Fuji stainless frame guide (SiC ring) with an emphasis on durability, a single foot guide is used for the tip and belly parts, and a small diameter contributes to weight reduction and high balance. In addition, the tip, belly, and bat parts have their original settings at the optimum positions according to the taper design and bend curve so that each part can fully play its role.

Grip and reel seat

Emphasizing gripping performance and operability, a slim and lightweight blank touch-type Fuji ECS reel seat and cork & separate grip are used. The grip end is equipped with a proof of Morizo ​​Shimizu production and a metallic red & silver synergy original end plate.