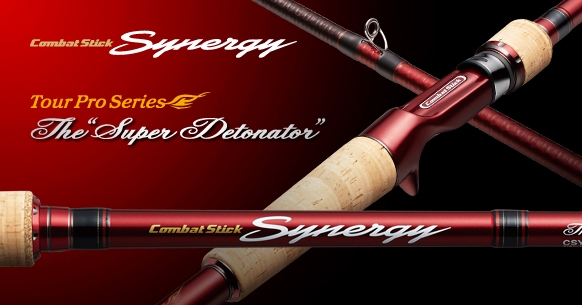 Super bass fishing machine for handling jigs and worms at the world level.

As a pitching & casting rod for rubber jigs & Texas rigs for cover. Or as a full-cast rod for offshore football jigs and Texas rigs. A rod and super detonator that performs the basic movements of jig & worm fishing at the world level by manipulating lures, eating them while eating them, and hanging them out.
"Strength of strength" that symbolizes a combat stick in the whole body from the bat to the tip of the tip, that is, the power to float instantly through the hard upper jaw of the big bass, which has supported the fishing of Morizo ​​Shimizu for more than 10 years Tactics and detonator, which is compatible with high-level "eating" that sucks small bits without being repelled, has evolved dramatically with cutting-edge technology. Despite further increased strong hooking & lifting power, the weight is reduced at the same time. While having power that exceeds that of extra heavy action rods, it has also expanded the range of support for delicate cover shooting on lightweight Texas rigs against tough big fish.
Of particular note is Shimizu's commitment to sensitivity. Surprisingly, "Highly sensitive rod is not necessary". However, the meaning must not be mistaken. Behind the words of the top athletes fighting on the world's highest stage, "sensitivity is important, but it is not just high sensitivity. It conveys the information that is really necessary for fishing. The extra information other than is only noise and I want it to be cut off. "
"Kong is a clear Atari. Any rod can be understood. What I really want to feel is the big Atari, which is a big bass, a dull sense of incongruity that just keeps moving and does not move at all. Is it a fish or a piece of weed? If you want the sensitivity to instantly identify subtle differences that make you feel confused, you may get in the way of high sensitivity that can transmit all sorts of information to your hand. Will be buried in the wrong information, and will lead to confusion. "
This is the high sensitivity that Shimizu demands for jigs and worm rods, and the Super Detonator was finally born in pursuit of the true sensitivity necessary to catch it. In a world-level battle where you can't miss even a single byte, you will perform pitching and casting repeated all day long and accurately, and skillfully manipulate the lure. I feel a sense of incongruity that I can't say atari. The fish caught is then floated and caught without giving any initiative. A super bass fishing machine. That is the super detonator.
<Supported lures and rigs>
Jig with guard / Texas rig / Light Texas rig / Football jig / Heavy Carolina rig etc…
■ Synergy Development Story 1 is here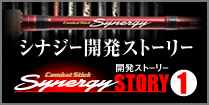 blank
Realizing the high-level requirements of Morizo ​​Shimizu through integration with Daiwa Technology . The top guide to # 7 guide are reinforced with 45 ° fiber "X45" which is strong against twisting. In addition, the bottom bat part from the # 7 guide is reinforced with a three-axis fabric "3DX" with a honeycomb structure that is resistant to slipping. The synergistic effect of the main material that governs the tone of the rod and the technologies "X45" and "3DX" provides both power and lightness. In addition to hooking performance and lifting power, cast distance & accuracy and operability are greatly improved.

Guide system

While setting the emphasis on durability with the Fuji stainless frame and double foot guide (SiC ring), the small diameter contributes to weight reduction. In addition, the tip, belly, and bat parts have their original settings at the optimum positions according to the taper design and bend curve so that each part can fully play its role.

Grip and reel seat

Emphasizing gripping performance and operability, a slim and lightweight blank touch-type Fuji ECS reel seat and cork & separate grip are used. The grip end is equipped with a proof of Morizo ​​Shimizu production and a metallic red & silver synergy original end plate.