CSYC-77H Super Magnum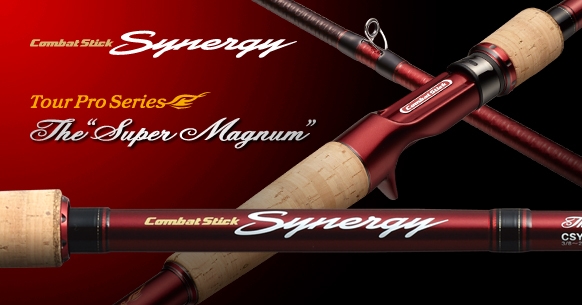 The real meaning of the strongest power, heavy cover special to fight in the world.

It is an absolute requirement to win the world to be able to land the fish hung in the cover with a margin. Super Magnum, a super heavy cover compatible rod that drags big fish with overwhelming lifting power.
A shaft like a lump of whole body muscle created by the fusion with Daiwa's latest technology, and a thick bat are proof of power. Lifting power that can withstand an American super heavy cover and 10 pounders is also powerful in the Japanese field, where the need to fish deeper and cover the back of the cover is increasing. In addition, buses have become increasingly large in the field of Japan in recent years, and there is an increasing number of situations in which such huge buses must be dragged from the back of the heavy cover.
Although it is a super magnum with such generous power, it is a work that the latest technology can do as light as it looks at the moment you get it. This lightness is a great advantage in cover shooting, which is preceded by an exhilarating image, but is actually required to be precise and delicate. From punching with heavy weights exceeding 1 oz to shooting with a 5g sinker, it offers both world-class sensitivity and power for cover fishing in general.
In addition, discerning guide setting is an answer from the actual battle. For example, the butt guide is positioned closer to the grip side than a general flipping rod, so that the controllability during lure operation can be improved and the power of the bat can be maximized. Also, it is not surprisingly known that the longer the butt guide is, the longer the line can be drawn when flipping.
And real sensitivity that Morizo ​​Shimizu wants for jig & worm rod is realized. Dense discomfort (= big bass) that cuts unnecessary information (= noise) from all kinds of information that is often found in so-called high-sensitivity rods and cuts out unnecessary information (= noise) just by becoming heavy. (Atari) can be firmly felt.
Extra heavyweight power, but H (heavy) notation in the sense of combining strength with delicacy. This is the global standard. More powerful and lighter. The real meaning of the strongest power that Morizo ​​sought, a heavy cover special to fight in the world, Super Magnum.
<Supported lures & rigs>
Texas rig / punching / jig with guard / light Texas rig / heavy Carolina rig etc …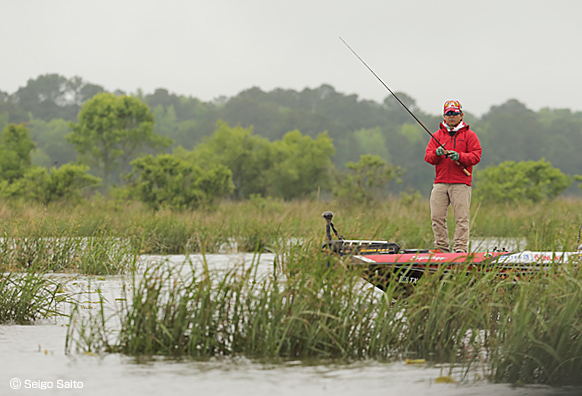 blank
Realizing the high-level requirements of Morizo ​​Shimizu through integration with Daiwa Technology . The top guide to # 8 guide are reinforced with 45 ° fiber "X45 (X45)" which is strong against twisting. In addition, the bottom bat part from the # 8 guide is reinforced with a three-axis fabric "3DX" with a honeycomb structure that is resistant to slipping. The synergistic effect of the main material that governs the tone of the rod and the technologies "X45" and "3DX" provides both power and lightness. In addition to hooking performance and lifting power, cast distance & accuracy and operability are greatly improved.

Guide system

Setting that emphasizes durability with Fuji stainless frame and double foot guide (SiC ring). The tip uses an LC guide with minimal thread entanglement. In addition, the tip, belly, and bat parts have their original settings at the optimal positions according to the taper design and bend curve so that each part can fully play its role.

Grip and reel seat

Employs a spigot joint method (grip detachable) that connects a thick bat and a slim grip. While maintaining bat power, the combination of a slim and lightweight Fuji ECS reel seat with a cork & separate type grip provides excellent gripping performance and operability.

The grip end is equipped with an inner balancer that facilitates flipping and pitching operations. Equipped with a proof of Morizo ​​Shimizu production, metallic red & silver synergy original end plate.