GTX-C710XHX Grand Stallion GT-X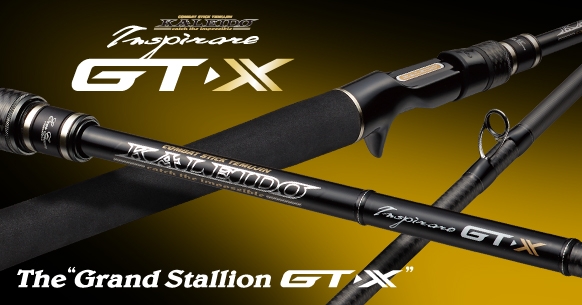 Stallion of the great earth that flies over 90m over distance and over 60cm algae Dharma. Suppress the monster bus from the land and from the boat.

A new genre power long rod that did not exist in Kaleido until now, that is the Inspire Special Forces, Grand Stallion GT-X.
In addition to the "strength (power)" that will be received even if it exceeds the limit, the instantaneous "hardness" that allows the hook to penetrate even at super far distances, and an extra heavy action of 8 feet class The three elements of the contradictory element of absolute "lightness (operation feeling)" that did not exist until now.
The main blank of Japan's highest carbon "Torayca® T1100G" & "Nanoalloy® technology" is reinforced from the bat to the berry with ultra-high elastic 50t carbon, and the bat part is reinforced with a ± 30 ° kaleido super quattrocross, with a whole body that is supple and strong The blanks that draw beautiful arcs, for example, realize a stable flight distance of 80m or more with a full swing cast of a heavy Carolina rig on the beach.
And the instantaneous sharpness that enables a high-probability hook set far off the line. A huge lifting power with a load capacity of over 10kg that allows you to forcibly push the 60cm over the weed into the algae. Despite this, it is incredibly light as an 8 foot class extra heavy rod that allows full casting for a long time.
In boat fishing, it also supports punching with heavy covers, super long cast big bait of 8 inch class trout bait, and high level of magnum spoon.
Converting the cutting-edge technology cultivated in the tournament into areas that were impossible with the past Beach Carolina Rod and Extra Heavy Long Rod, one after another. A new world where the historic traps of high-strength carbon "Torayca® T1100G" and ultra-high elasticity 50t pure carbon have opened up. GT-EXTREME = GT-X, which exceeds the GT series, transcends the common sense of extra heavyweight long rods.
<Supported lures & rigs>
Heavy Carolina rig / Texas rig / Jig with guard / Big bait / Swimbait / Giant bait / Heavy spinner bait / Magnum spoon etc …
▼ Grand Stallion GT-X development story is here

blank
Hybrid & low taper design of 33 ton carbon and 50 ton ultra high elasticity carbon applying "Nanoalloy® technology" to "Treca®" T1100G "" high strength and high modulus carbon fiber . Not only is it strong and powerful, it also has light, sharp, high sensitivity and outstanding operability.

In addition, the bat part up to the former guide is reinforced with a ± 30 ° super quattro cloth (4-axis seat) that has a higher density of diagonal reinforcement and exhibits greater power.
▼ "trading cards ®" T1100G "" more If you want to know more information about the
① ground Cobra product development concept – the concept – overturn the stereotypes that have been embodied by a time of epoch-making material in 20 years
② [Video] "trading cards ®" T1100G "] 180 ° pull-in strength test 

Guide system

An all-double foot guide specification that doubles the area of ​​the guide foot and thread, strengthens bending and twisting, and improves toughness and rigidity.

All guides employ a lightweight titanium frame torzeite ring that improves operability and sensitivity. Line sliding is good and the inner diameter of the ring is larger compared to other guides of the same size, reducing the resistance during casting and increasing the flight distance.

In addition, it is possible to handle thicker lines and line slacks more appropriately by setting a larger guide.

Fore grip

Lightweight and highly sensitive by combining reel seat nut with high sensitivity 4-axis carbon and simple design winding check with metal parts in part. Fore gripless design featuring a sharp sense of operation.

Reel seat design

The reel seat uses a thin and lightweight Fuji ECS reel sheet that is easy to grasp and has a blank touch method that emphasizes sensitivity. Above all, grip rigidity is enhanced by selecting the maximum grip inner diameter.
Grip design

EVA straight double hand specification that creates a feeling of rigidity to firmly hold the power long blank and demonstrates the effect of reducing the feeling of weight without a balancer even though it is a power long rod.

EVA has a gentle kickback to the wrist when casting, and it has the characteristics that it will not fade or crack even after long-term use.

The straight double hand grip also has a function of amplifying sensitivity. Grip removable type.