HCSC-60UL / MST Spark Shot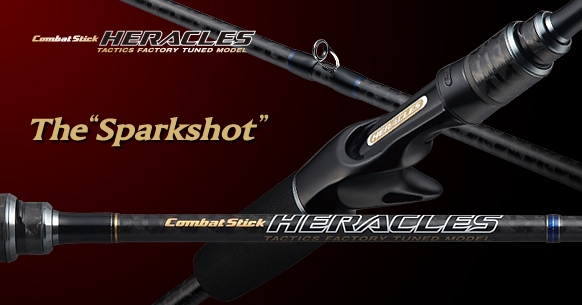 A bait finesse rod of Kanwa Gakumi, composed of complex puzzles.

Even if you say bait finesse, the way of thinking is different depending on the angler. To put it simply, it is the difference in the weight width used.
The area required for the spark shot is that you can use the lure that can only be handled with spinning tackles without stress with bait tackles. In terms of weight, it is a rod that can handle lures of around 3g.
"I want to put a finesse rig in a complex cover in one shot. But…" I want to eliminate that feeling of jealousy.
Light lure casting accuracy, hooking performance, power to pull out from the cover … Rethinking the limits of the bait rod area A rod with a puzzle is a spark shot.
Blanks
A solid tip that skillfully manipulates lightweight rigs to convey subtle changes. In addition, the 4-axis Hercules cross is used more than usual from the reel side to the second guide in the foreground, greatly reinforcing the bat section. Delicate tips and strong bats are Kankaku's commitment to "throw a finesse rig into a complex cover in one shot."

Original spiral guide setting

An original spiral guide setting with the bat section guide and the front two from the reel side facing upwards to maximize the bat power of the 4-axis Hercules cloth manufacturing method.
Guide system

Micro guide setting that dramatically improves sensitivity and operability with an ultra-lightweight small-diameter guide. (Fuji titanium frame SiC ring guide)

Thread design

Metallic blue and gold threads are used for spark shots as a proof of Kanwa Gaku Special Edition.

Reel seat design

Adopts a Fuji ACS reel seat with a blank touch method with improved offset gripping support such as main trigger and second trigger.

Grip design

A separate type that can be cast from all directions and pursues operability and weight reduction. The grip end is fitted with a combination color ring with Heracles' initial H as a motif and a Hercules original end plate showing quality.