HCSC-63MH Technical Action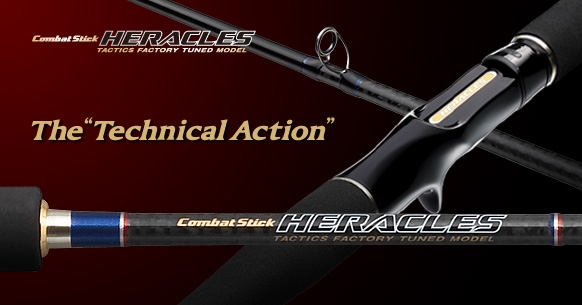 Master the football jig! Powerful short gear that emphasizes operability.

Delicate operation of football rubber jig and heavy down shot rig can be easily done, catching a bite and hooking with one hand, just lifting the big fish of Lake Biwa just by enduring it, easy operation short length, power and torque Medium heavy action, that is Hercules "technical action".
Even in the side step "floating floating pattern" involving the cover, it is very active with the power to peel the bus from the cover at the moment of biting. Although it is a "medium heavy short gear with excellent operability", there is no doubt that you will experience the true power beyond the display.
Blanks
Low resin pure carbon is used as the main material. By increasing the butt diameter and increasing the taper in the tip direction and making the carbon sheet thinner, it achieves overwhelming strength and light weight at the same time. In addition, the bat part is reinforced with a Hercules cloth manufacturing method that adds carbon fiber in 2 vertical and 2 horizontal directions, and 4 diagonal directions. Blanks with uniform strength in all directions are completed by adding torsional rigidity that is obliquely crossed to vertical bending rigidity and horizontal compression rigidity. The return speed is fast, and at the same time, it is easy to swing through, can be cast from all directions, increase accuracy, improve flight distance, hooking response, and improve operability and sensitivity by weight reduction. It was.

Thread design

In Hercules Casting series, thread color is set for each rod. Tricolor colored thread is used for technical action.

Guide system

Originally set with Fuji stainless frame SiC ring double foot guide for strength.

Winding check

Champagne gold winding check with a beautiful combination with the gold ring is an important part that can be called a "signal booster" that amplifies the signal from the blanks and instantly transmits it to the hand.

Reel seat design

"The shape follows the function". Original reel seat, EG Super Bus Seat Slim, developed by Evergreen, a tacticalist. A simple and functional form that balances various operations required for bass fishing. The slim body of the original shape enhances casting accuracy and balances all fingers in palming to reduce hand pain and fatigue. In addition, the unprecedented length and shape of the seat end can be gripped firmly with your little finger. Equipped with Hercules original reel seat emblem on a delicate black polish paint.

Grip design

Shaped grips and small end caps are used to prevent interference and clinging to clothing during jerking.