HCSC-70MG Torquata 7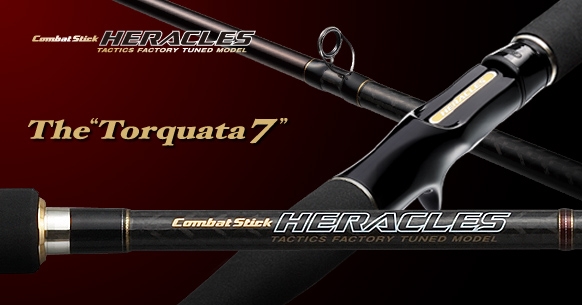 We catch surely by deeper hooking. Ideal shallow cranking rod.

Super Nova Factory tune model, Torqueata 7. It is the fusion of 4-axis carbon with the greatest advantage of glass. A magical tip section that draws deeper bites in the shallow cranking during tough time and entangles them. Flexibility to follow a rapid bus run linearly. And the tight bottom trace with less roots maximizes the benefits of glass.
In addition, the reinforcement of the bat section with a 4-axis Hercules cross demonstrates its power in more reliable hooking, casting accuracy, and fighting with decabas. In addition, I got an improvement in sensitivity that I couldn't imagine of a glass. The 7-foot length not only improves long castability, but also makes it easier to modify the retrieve course and enables tighter tracing.
Furthermore, the all-double foot guide system not only provides durability, but also provides a feeling of carrying a small, lightweight crankbait by providing an appropriate weight distribution on the tip, improving both long cast and accuracy. It was.
Catch a bus that cannot be caught. Deeper hooking. The world of shallow ranking will change. Torque arter 7. New dimension glass crankin rod.
Blanks

Uni-direction (unidirectional fiber) glass main shaft. By compositing a 4-axis Hercules cloth on the bat, light and strong blanks with less blur were completed. Delivers strong torque and bat power without compromising the goodness of a supple and compliant glass. Deep brown purple finish that changes with the amount of light and angle of light that beautifully shines in the field is adopted. (Excluding the logo area.)

Thread design

In Hercules Casting series, thread color is set for each rod. Torque Arta 7 uses metallic brown & gold thread.

Guide system

Original setting of Fuji titanium frame SiC ring double foot guide with emphasis on strength and durability.

Winding check

Champagne gold winding check with a beautiful combination with the gold ring is an important part that can be called a "signal booster" that amplifies the signal from the blanks and instantly transmits it to the hand.

Reel seat design

"The shape follows the function". Original reel seat, EG Super Bus Seat Slim, developed by Evergreen, a tacticalist. A simple and functional form that balances various operations required for bass fishing. The slim body of the original shape enhances casting accuracy and balances all fingers in palming to reduce hand pain and fatigue. In addition, the unprecedented length and shape of the seat end can be gripped firmly with your little finger. Equipped with Hercules original reel seat emblem on a delicate black polish paint.