HCSS-64ML Black Regius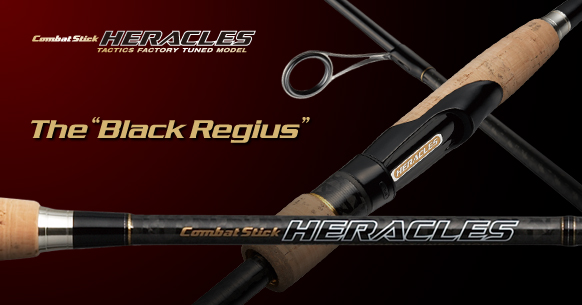 * This product has been discontinued.

Bold and delicate. Amazing wide-area capability.

Hercules series first spinning model "Black Regius". A high-taper base blank made from pure carbon prepreg with minimal resin, and a strong Hercules 4-axis cross-up. The fast-returning and twist-resistant bat section boasts the power to reliably end the big bus in big lakes and flowing rivers.
But Black Regius is not just a power rod. By adopting the thin reel sheet Fuji VSS16, the delicate operation feeling is greatly improved. In addition, the ultra-lightweight blanks, which are easy to handle, have a flexible tip design with a high degree of freedom, realizing outstanding operability.
Bold and delicate. A fusion of "strength" and "operability" that makes full use of the features of the Hercules series and has superb power while maintaining the super-fine action of real finesse. This is the true value of "Black Regius".
Blanks

Low resin pure carbon is used as the main material. By increasing the butt diameter and increasing the taper in the tip direction and making the carbon sheet thinner, it achieves overwhelming strength and light weight at the same time. In addition, the bat part is reinforced with a Hercules cloth manufacturing method that adds carbon fiber in 2 vertical and 2 horizontal directions, and 4 diagonal directions. Blanks with uniform strength in all directions are completed by adding torsional rigidity that is obliquely crossed to vertical bending rigidity and horizontal compression rigidity. The return speed is fast, and at the same time, it is easy to swing through, can be cast from all directions, increase accuracy, improve flight distance, hooking response, and improve operability and sensitivity by weight reduction. It was.

Guide system

Takeshi Fukushima is in charge of the guide setting. The guide setting matched to the bending of the regular fast taper blank maximizes the performance of the rod, enabling a smooth long cast with good swing-through.

Reel seat design

The slim reel sheet Fuji VSS16 is adopted, and the uplock hood has a carbon sleeve and a straight design with few steps. The feeling of fitting has been greatly improved, and excellent operability that makes it easy to handle delicate actions has been realized. The reel seat is equipped with a virgin black polish paint and Hercules original reel seat emblem.

Grip design

The winding check that plays the role of a high-sensitivity signal booster and the tapered shape at the tip are sensitive settings. Light weight achieved with a necessary and sufficient separate design. The grip end is fitted with a combination color ring with Heracles' initial H as a motif and a Hercules original end plate showing quality.