HCSS-65L UT spin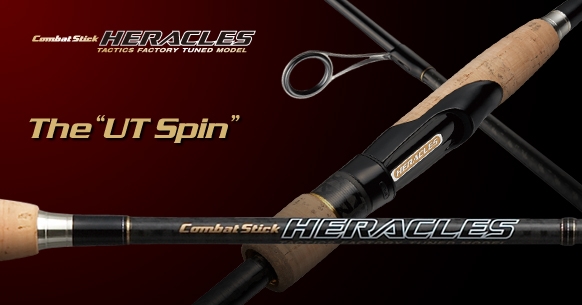 * This product has been discontinued.

An all-round spin trained in a special situation called a tournament.

Tomohiro Kobayashi participates in nearly 30 tournaments per year including JB TOP 50. With the specialization of fishing methods, rods also specialize, and Kobayashi demanded against the flow of modern tournament scenes where the range of use of one piece tends to become extremely narrow, in order to respond to various fields and situations It was an all-round rod.
Because special rods such as solid tips cannot respond to changes in the situation instantly, an enormous variety of rods are required according to the rig … By thoroughly polishing the performance, a single rod has a wide range of capabilities.
A seamlessly curved blank and tubular tip makes for an appropriate cast accuracy and reliable hooking performance. Kobayashi's confident work can use all-round light rigs such as cat rig, jig head wacky, drop shot, and small plugs such as shad.
An all-round spin trained in a special situation called a tournament. The breadth of the ability to respond should be a great advantage for Okappa Rangura who wants to use anything with just one.
Blanks

Low resin carbon is used as the main material. The fast taper without the habit is a discerning setting that conveys hooking power quickly by skillfully manipulating small plugs and light rigs. In addition, the bat part is reinforced with 50t ultra-high elasticity carbon & 4-axis Hercules cross, and demonstrates high power that is not defeated by big buses.

Guide system

A tournament specification that uses the Fuji LG Top Guide and is devoted to lightening the tip without any thread. The steps are UV coated to prevent line catching. The tip section is a small-diameter Fuji titanium KT guide. Sensitivity improves as the line approaches blanks. Furthermore, the thread tangling to the guide is drastically reduced.

Reel seat design

The slim reel sheet Fuji VSS16 is adopted, and the uplock hood has a carbon sleeve and a straight design with few steps. The feeling of fitting has been greatly improved, and excellent operability that makes it easy to handle delicate actions has been realized. The reel seat is equipped with a virgin black polish paint and Hercules original reel seat emblem.

Grip design

The winding check that plays the role of a high-sensitivity signal booster and the tapered shape at the tip are sensitive settings. Light weight achieved with a necessary and sufficient separate design. The grip end is fitted with a combination color ring with Heracles' initial H as a motif and a Hercules original end plate showing quality.