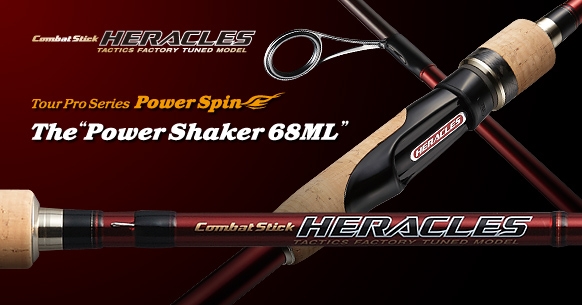 Sorisan's power spin. Different dimensions and a perfect fusion of "Tsu" and "Soft".

Hercules "Tour Pro Series" is a rod that Morizo ​​Shimizu crossed with the monsters of the world 's highest tournament / Busmaster Elite series to make fishing wins. Above all, a tough condition, a rod that can be said to be a trump card, is "Power Spin".
As the name suggests, despite the muscular shaft that has the power to penetrate the hard upper jaw of the big bus, the "Power Shaker 68ML" and "Power Lineup of two "Shaker 611M". A straight tip that is easy to shake without sacrificing the power of taste, and that fits well into the weak suction of tough baths is unparalleled.
From close combat to super long throw, from shallow to ultra-deep, "Power Spin" that overturns the common sense of spinning rods is compatible with all tough conditions.
The Power Shaker 68ML is a rod for mainly handling all finesse baits such as jig heads, shake key heads, and drop shots at close range. This model is especially suitable for technical operations such as accuracy cast to overhang and pin spot shake.
■ Tour Pro Series Power Spin Concept
As a professional who competes on the stage of the world of competition and the world's highest bass master elite series, Morizo ​​Mizusawa finesse fishing using spinning tackles is an indispensable area for Morizo ​​Shimizu.
"There are many cases where you will encounter situations that can only be achieved by spinning tackles in the Busmaster Elite series, held in various types of fields and under extreme pressure," says Morizo.

Blanks

A straight taper design of Seisan. The design is easy to shake with the weight of the tip without losing sensitivity or tension. In addition, the tip bends greatly at the bend point that concentrates around 30cm from the tip, and you can bring the bite into the hooking while listening to Atari. Reinforced with 40t high elasticity carbon and 4-axis Hercules cloth, the bat section demonstrates powerful power that instantly kills quality baths.
* The 4-axis Hercules cross in the bat is hidden behind the Titan Red coloring (pictured here).

Guide system

The top and tip sections combine a MN guide and a KT guide to prevent thread tangles during shaking. Choose a Y guide that does not impair the sharp impression in the bat section. Emphasizing strength and durability, stainless steel frame is used for all guides.

Original down shot keeper

An original keeper that has a drop shot sinker with one hand and can be set / released simply by sliding the line along the blank.

Reel seat design

Adopting Fuji VSS reel seat which is easy to operate and can hold firmly. A down-lock system that does not loosen even when force is applied while gripping.