Large diameter gear, high speed, double big round knob mounted, low prove casting casting reel!!
A low-pro-type baitcasting reel for large fish such as shore jigging, monsters and thunderfish .
100g equivalent jig shore jigging, big plug with salt water
The perfect model for big casting games, such as casting games, frog games of thunderfish, etc. !!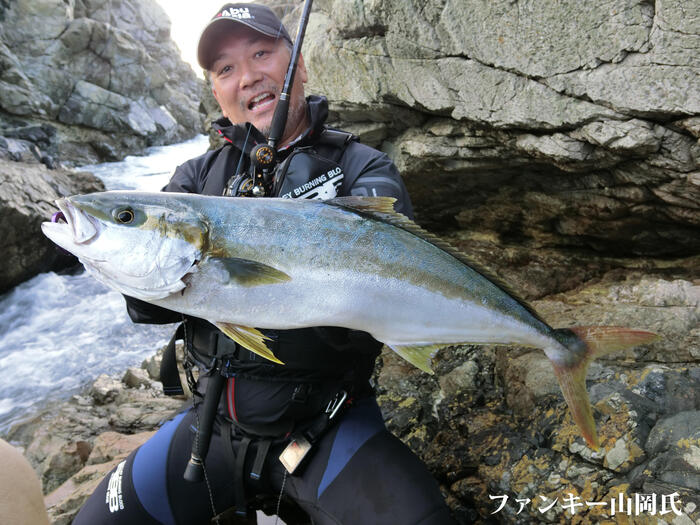 I tried throwing it with Big Shooter WM60. (From Funky Yamaoka Youtube video "Funky cam cam")
Product features
Large diameter brass dura gear

Power stack carbon matrix drag

Semi-synchronized level wind

Low profile body

105mmC-C Double Round Big Knob

1 / 3,1 / 4 split lower volume guide line

Backup ratchet stopper

Infini Max brake system 

arm
Detail
Large diameter brass dura gear

Equipped with a tough large-diameter brass gear, the diameter is 17% greater than that of the big shooter, and the thickness is greatly increased from 4.2mm to 5.2mm. The durability and strength have been improved, and strong gears can be used for fighting with a safe big game.

Power stack carbon matrix drag

Normally, when three drag washers are used, only three surfaces on one side are effective. On the other hand, by providing irregularities on the outer diameter of the drag washer, the effectiveness of five surfaces is increased, which is two more than usual. It offers excellent drag performance as well as maximum drag.

Semi-synchronized level wind

To emphasize the casting performance, a method was adopted in which the level wind was synchronized when the drag was pulled out as much as it was wound after the cast landed. The level wand pins have a DLC coating to further improve durability.

Low profile body

For long fishing of large reels, the palming performance is also a great performance to reduce the degree of fatigue. The low profile body, which takes advantage of the low pro type, is approximately 52mm from the foot. Provides comfortable palming performance.

105mmC-C Double Round Big Knob

It employs two large EVA round knobs, which are ideal for big games, contrary to the power of appearance. Once used, you will become accustomed to its comfort and become an essential specification in power games.

1 / 3,1 / 4 split lower volume guide line

In consideration of various line uses, a guide line for lower winding of 1/3, 2/3, 1/4, 1/2, 3/4 of the thread winding amount is machined on the side of the spool. It is easy to examine the troublesome, lower volume guideline. It becomes possible to just fit a suitable line capacity, and it is possible to make the most of the advantage of the maximum diameter of the spool.

Backup ratchet stopper

In addition to a one-way bearing at the base of the handle, a ratchet-type backup ratchet is used in combination to prepare for a big game.

Infinimax brake system

A brake system that uses both a magnetic brake and a centrifugal brake. Fine brake setting is possible according to the air resistance characteristics of the cast object.