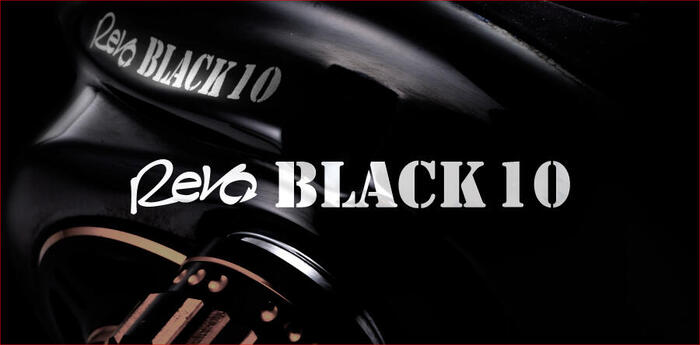 Kenta Kimura professional comment
2017 The project of BLACK10 started when I saw the prototype of the new 4th generation RevoELITE series.
At the time and now, BLACK9 is the best reel I have made, but the brush-up that can only be achieved with the 4th generation Revo has been applied to BLACK10.
Higher gear ratio of 10.1: 1 without losing the "rigidity" that is the top priority for the BLACK series
I entered a new dimension of high gear that I have been waiting for, with a gear ratio of 10 / maximum line winding of 105cm.
The clutch employs a Dura clutch with greatly improved durability and accuracy.
Magtrax II, which can exert its strength in the low-speed rotation range when using a light lure, has been adopted for the brake system.
At first glance, except for the higher gear ratio, it is difficult to realize a big difference from the conventional BLACK series,
In addition to this, certain improvements were made everywhere, and the "Kimken-like" strongest reel BLACK10 was completed.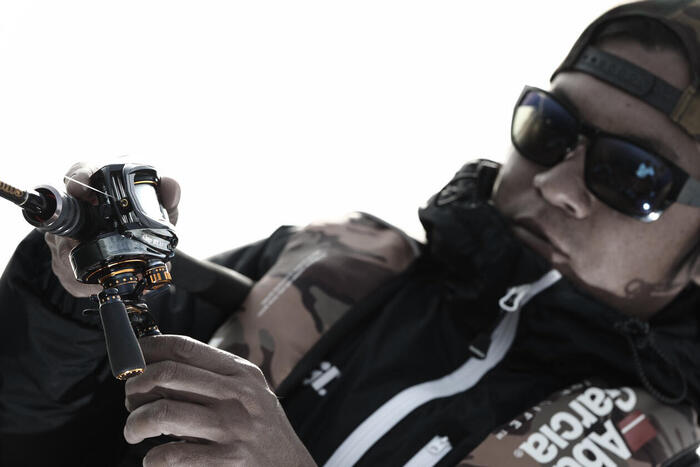 REVO fastest gear ratio, 10.1: 1 Over 105cm meter per rotation of handle. The arrival of high-speed fishing. Equipped with large diameter brass gear, power stack carbon drag close to full lock, and IB brake. For shallow water vibration, minnow speed fishing, top water pencil, frog, Texas speed recovery, rockfish!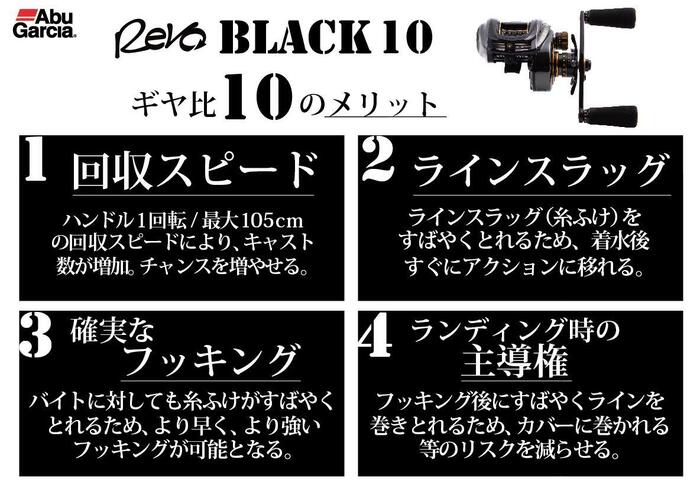 Characteristic
Durametal frame
The aluminum frame is designed to the limit while reducing the strength without reducing the strength.
Material setting considering tough use in salt.
]
Durametal side plate
The side plate is titanium coated on aluminum.
It becomes a full metal configuration along with the main frame,
Hooking without distortion and retrieval without blurring became possible.
Magtrax III brake system
When casting a lure with large air resistance in windy open water,
From the beginning of the throw, the lure is pushed back by the wind and tends to backlash.
So, from the moment the lure is released, the brake is sure
It is equipped with a MagtraxIII brake system that uses magnets that works well.
With a thickness of 1.5mm is factory magnet 2 is, the thickness of 3mm of the magnet been equipped with five, it has become a set of IMR favorite.
In addition, three 1.5mm magnets are included, so you can adjust the number to your liking.
Power stack carbon matrix drag
Normally, when there are two drag washers, only one side is effective,
By adding irregularities on the outside diameter of the drag washer, one more surface than usual
Demonstrate the effects of three sides.
It offers excellent drag performance as well as maximum drag.
D2 gear design large caliber brass gear
Equipped with a strong large-diameter brass gear, durability and strength have been improved,
Fighting with big game can be done with strong gear.
Dura clutch
The operating section has been thoroughly redesigned, resulting in a clutch structure that is easy to disengage and has improved durability.
φ33mm aluminum machine cut deep spool
16lb-100m line capacity. A long throw and an almighty setting at a short distance when aiming for a big fish.
Double finger knob
Two fingers can be hung, its shape and length transmit power firmly to the reel and wind up instantly,
Bring it to hooking and remove big fish from heavy cover without giving fish control
It is possible to drag.
Securely secured with a 4mm thick handle arm
High strength brass gear shaft & stainless steel handle knob shaft
Support shafts often made of aluminum for the purpose of weight reduction.
Not aiming for lightness, seeking the ultimate in rigidity,
High-strength brass on the drive gear shaft,
Stainless steel is used for the handle knob shaft.
Super free HPCR-BB
Minimizing ball bearings is a way to reduce drag, but it is more vulnerable to load.
Abu Garcia reviewed the design of the ball raceway of the bearing,
Successfully developed low ball bearings.
Improved low trajectory pitching and long throw performance.
Salt Shield TM pinion bearing
By adopting a newly developed ball bearing with a water-repellent coating on the entire inside and outside,
Dramatically reduced salt-gami phenomena that cause abnormal noise.
The rotary feel and durability have been greatly improved.
It is adopted for the pinion gear section where salt crystals are most likely to remain on the double-axis reel.
Pinion gear support shaft
Extend the pinion gear support shaft and support the support point with ball bearings
The load on the shaft during winding and hooking
It has become possible to disperse the whole body.
Product features
245 g of own weight
Magtrax III
Power stack carbon matrix drag
D2 gear design
Dura gear large diameter brass gear
Salt shield pinion BB
Super Free HPCR BB
Dura clutch
Durametal frame
Titanium coated aluminum side plate
33mm spool diameter
95mm DFL handle
Gear ratio 10.1: 1
16lb-100m
7/1 bearing