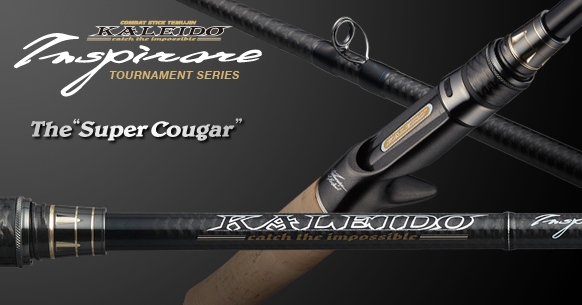 Expert long versatile that is lighter and sharper.

Inspire "Super Cougar" is a rod that pursues the merits of high taper blanks and the latest 4-axis construction method, which realizes amazing light weight despite having a length comparable to 7 feet.
Fully armed with ± 45 ° original 4-axis cross from the top to the former guide, and ± 30 ° narrow-angle original 4-axis cross that provides greater power at the bat part below the former guide with a higher density of diagonal reinforcement . Thanks to the latest 4-axis theory and construction method, it has evolved into a higher performance rod.
Its greatest feature is that it demonstrates its maximum strength when you want to quickly capture a wide area with a long cast because of its length. A wide range of swimming and moving lures, including chatter baits, spinner baits, swimming jigs, worm swim baits and vibration lures in the weed flat area.
In addition, because it is light enough to be handled with one hand, it can be used for operation lures such as jigs and worms, and it also has excellent ability for spot-casting accuracy casting.
A super cougar with a beautiful bend curve without the itch produced from a high taper blank that uses the latest 4-axis construction method throughout the body. As a long versatile rod, we are expanding the field of activity.
Blanks

The latest 4-axis manufacturing method by Kaleido Super Quattro Cross is adopted throughout the body from bat to tip. Low resin pure carbon is placed on the main cloth, ± 45 ° manufacturing method from the top to the former guide, and ± 30 ° manufacturing method that provides greater power with a high density of diagonal reinforcement from the former guide to the lower bat part. Adopted hybrid full wrapping specification.

Guide system

Inspire's unique ultra-light semi-micro guide setting . Since the line is set at the last height that does not rub the blanks when the rod is bent, the core of the rod is easy to eat and power loss during casting and hooking is reduced. (Fuji titanium frame SiC ring guide)

Fore grip

Eliminating the fore grip and realizing further weight reduction. In addition to the winding check of the sharp design, the minimum 4-axis carbon sleeve nut greatly contributes to weight reduction and high sensitivity.

Reel seat design

The reel seat is a thin and lightweight Fuji ECS reel seat with a blank touch method that emphasizes ease of grip and sensitivity . The tournament series is given a titanium color that matches the cork grip, creating a texture that is the finest.

Sign

As a proof of Katsutaka Imae's production, the tournament series reel seats were signed in Roman letters.

Grip design

Uses a separate grip that emphasizes operability and weight reduction. The tournament series uses cork as the most important center grip material to touch. Cork is characterized by its high hardness and light air, so it is lightweight and has excellent sensitivity transmission. The grip end is fitted with an original end plate with a kaleidoscope motif.