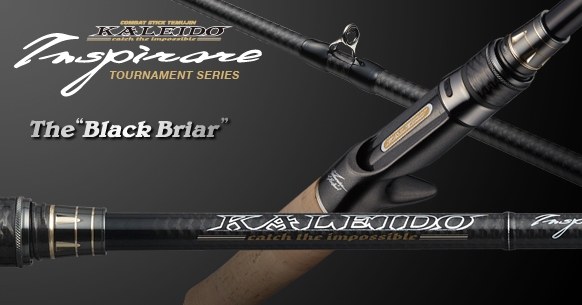 Stingray 66 DNA successor.

The black briar (black rose bite) that inherits the direct gene of Stingray 66 , which sparked the bait finesse boom, is a full-fledged tournament bait finesse rod that can handle 1.8 to 3.5 g (small rubber jig unit weight) perfectly.
The biggest feature is the first full-scale narrow-angle 4-axis armed model of the solid tip composite rod, and the latest solid tip composite technology makes this possible. It beautifully transfers the input power to tips, berries, and reinforced bats, creating an ideal bend curve for bait finesse rods.
It feels supple and soft for a moment, but the actual power is much higher than Stingray 66. In addition, the Torzite ring guide system is newly adopted. We achieved further weight reduction while maintaining strength.
Stingray Super Shake is an all-tubular and versatile machine that can handle hard bait finesse, whereas Black Briar is an authentic bait finesse rod that Imae places as its main force.
A variety of 4-axis armaments, innovative solid coupling technology, and weight reduction with a new guide system make it a bait finesse rod for practical competition with ultimate accuracy.
Blanks

Main blanks that require weight reduction while maintaining strength, adopt a ± 30 ° kaleido super quattrocross manufacturing method up to # 4 guide with high density of diagonal reinforcement and greater power . Solid carbon tips with unique taper are composited using the latest technology. Achieves a smooth ideal bent curve of bait finesse rod that does not feel the seam.

Guide system

Newly adopted ultra-thin and ultra-lightweight torusite ring guide system Inspire's unique ultra-light semi-micro guide setting makes it easy to eat the rod core and reduces power loss during casting and hooking. (SiC ring for top guide only)

Fore grip

Eliminating the fore grip and realizing further weight reduction. In addition to the winding check of the sharp design, the minimum 4-axis carbon sleeve nut greatly contributes to weight reduction and high sensitivity.

Reel seat design

The reel seat is a thin and lightweight Fuji ECS reel seat with a blank touch method that emphasizes ease of grip and sensitivity . The tournament series is given a titanium color that matches the cork grip, creating a texture that is the finest.

Sign

As a proof of Katsutaka Imae's production, the tournament series reel seats were signed in Roman letters.

Grip design

Uses a separate grip that emphasizes operability and weight reduction. The tournament series uses cork as the most important center grip material to touch. Cork is characterized by its high hardness and light air, so it is lightweight and has excellent sensitivity transmission. The grip end is fitted with an original end plate with a kaleidoscope motif.