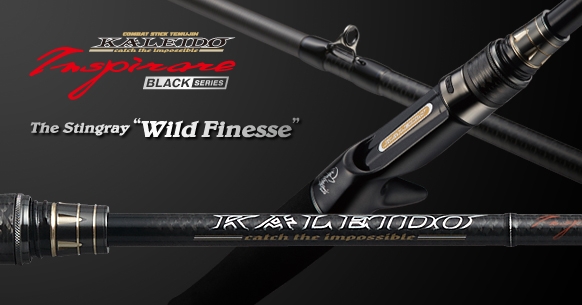 Solid combo to medium-modulus carbon
further light to moderate amount class utility special that raised tighten the 4-axis reinforcement.

In order to put the "Wild Finesse Concept" advocated by Katsutaka Imae into a cover using a 14 lb class thick line and shoot a super lightweight rig such as a small rubber jig in the high-level, the actual stage of the JB Top 50 Series Stingray Wild Finesse has begun development. However, as the tests were repeated, the demands from the field diversified and the concept expanded. Along with that , Stingray Wild Finesse was born , a model specializing in jigs on the cover and bottom, worm sensitivity, operability, Black Raven SS,and a wide range of lures.
Stingray Wild Finesse has evolved in a direction that emphasizes utility performance that can handle not only jigs and worms but also scrolls in general, in anticipation of a new era.
In the image of Cobra DG , medium-elastic carbon is rolled up thickly, and the sticky regular taper blank, which is sticky, is reinforced only by four axes so as not to kill the characteristics. In addition, the optimally composited solid tip contributes not only to delicateness but also to improved operability and sensitivity. From light to medium weight spinner baits, chatter baits, small to medium crank baits, minnows, shad and other hard baits to small rubber jigs, cat rigs, light Texas rigs and other soft baits, it can handle torqueful and finesse.
A combination of a mid-elastic carbon main shaft with solid tips and a kaleido 4-axis bat that demonstrates an all-round performance with an extremely wide range of defense. The fact that this combination has created a new synergistic effect is evidenced by the fact that Imae's stingray wild finesse is very frequently used in tournament performance and fishing.
Blanks

A carbon solid tip with a unique taper design that combines the uniqueness of solid with the power of MH, combined with a medium elastic carbon main tubular blank. In addition, a smooth bend curve is achieved by limiting the adoption of the ± 30 ° Kaleido SuperQuattrocross manufacturing method to the bottom bat part from the original guide. Boasts a wide range of lures.

Guide system

Newly adopted ultra-thin and ultra-lightweight torusite ring guide system Inspire's unique ultra-light semi-micro guide setting makes it easy to eat the rod core and reduces power loss during casting and hooking.

Fore grip

Eliminating the fore grip and realizing further weight reduction. In addition to the winding check of the sharp design, the minimum 4-axis carbon sleeve nut greatly contributes to weight reduction and high sensitivity.

Reel seat design

The reel seat is a thin and lightweight Fuji ECS reel seat with a blank touch method that emphasizes ease of grip and sensitivity . The black series has a black mica color that matches the EVA grip, creating the texture of the finest model.

Sign

As a proof of Katsutaka Imae's production, the black series reel sheet was signed in Chinese characters.

Grip design

Uses a separate grip that emphasizes operability and weight reduction. The black series uses EVA as the material for the center and rear grips. EVA has a gradual kickback to the wrist when casting, so it has an advantage in continuous casting of heavy lures and moving lures. In addition, because of its high shape durability, it also has the feature that it does not fade or crack even after long-term use. The grip end is fitted with an original end plate with a kaleidoscope motif. Grip removable type.