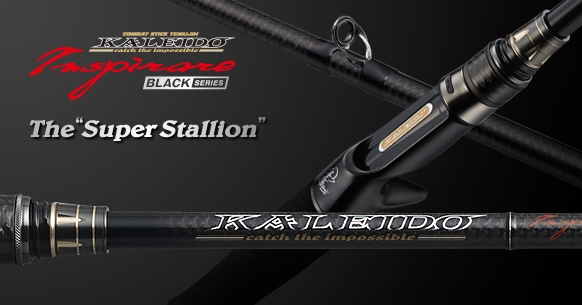 A jiu-jitsu heavy action rod that handles large lures in a delicate and delicate manner, and floats monster buses with plenty of room.

The well-known Kaleido Super Stallion, which has overwhelming long-throwing power and is equipped with furious hooking power, has been reborn as an inspire, making it even stronger and lighter.
The biggest feature is the powerful and sticky blanks characteristic that Katsutaka Imae describes as "Jiu-jitsu". By adopting the latest hybrid super quattro cloth manufacturing method that mixes ± 45 ° manufacturing method and ± 30 ° manufacturing method into a long rod blank of 7 feet 1 inch, we further refined the powerful power.
In addition, its lightness and sharpness have evolved dramatically due to its unique semi-micro guide setting and fore gripless adoption. This model takes full advantage of the characteristics of achieving toughness and weight reduction through inspire.
The ideal form of high-power rod that not only has enough power to float monsters, but also has the lightness that allows you to swing through heavy weight lures all day long, which is important when dealing with difficult big buses. Full-size big bait, 1oz class heavy spinner bait, 4m over deep diving crankbait, and even large lures up to heavy jigs & worms can be handled with ease and sensitivity.
Inspire Gunslinger is a heavyweight representative of the standing technique " Blow " that aggressively shoots and shoots, if it is Inspire Super Stallion.
Blanks

The latest 4-axis manufacturing method by Kaleido Super Quattro Cross is adopted throughout the body from bat to tip. Low resin pure carbon is placed on the main cloth, ± 45 ° manufacturing method from the top to the former guide, and ± 30 ° manufacturing method that provides greater power with a high density of diagonal reinforcement from the former guide to the lower bat part. Adopted hybrid full wrapping specification.

Guide system

The Super Stallion Black series uses an all double foot guide . By doubling the area of ​​the guide foot and the thread, it is reinforced against bending and twisting, and toughness and torque are increased. This setting is ideal for hard use, such as when handling big fish and big baits. (Fuji titanium frame SiC ring guide)

* All-double foot guides are used only for the Stallion DG69MH (TKIC-69MH-BK) and Super Stallion (TKIC-71MH-BK) black series.

Fore grip

Eliminating the fore grip and realizing further weight reduction. In addition to the winding check of the sharp design, the minimum 4-axis carbon sleeve nut greatly contributes to weight reduction and high sensitivity.

Reel seat design

The reel seat is a thin and lightweight Fuji ECS reel seat with a blank touch method that emphasizes ease of grip and sensitivity . The black series has a black mica color that matches the EVA grip, creating the texture of the finest model.

Sign

As a proof of Katsutaka Imae's production, the black series reel sheet was signed in Chinese characters.

Grip design

Uses a separate grip that emphasizes operability and weight reduction. The black series uses EVA as the material for the center and rear grips. EVA has a gradual kickback to the wrist when casting, so it has an advantage in continuous casting of heavy lures and moving lures. In addition, because of its high shape durability, it also has the feature that it does not fade or crack even after long-term use. The grip end is fitted with an original end plate with a kaleidoscope motif. Grip removable type.