6 '(carbon) LURE: 10-18 g LINE: 10-20 LB 
rod WT: 38.5 g Pack length: 56 cm Rod B price: 35,000 yen + tax

Standard grip: Single / Gun Meta Set price: 52,000 yen + tax
The M type is a well-pierced rod with a strong butt to make it easy to cast a large plug.
It features a wide range that can be used for light-weight movement of pencil bait and up-tempo fishing like popper's continuous action.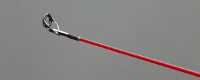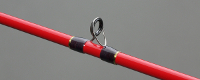 The impression is chic with reddish-orange blanks and gold-edged threads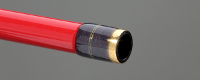 A metal ring is applied to the edge of the ferrule. <After setting, total length of blank (including ferrule)> 
   TT56: about 142 cm TT60: about 157 cm



The rod case where the red stitch runs on black is finished to be called an adult's tackle <rod case length> TT56: 54cm TT60: 60cm
The material is carbon, taking into consideration the weight that comes from the large number of "Top Water Traveler" seams, which are convenient for carrying and developed. In order to control the strength of the tension, two kinds of low elasticity materials are selected, the tip is 10t, 2nd and 3rd are 15t, and it is a glassy carbon rod.
Furthermore, a slip over ferrule is adopted in order to produce a natural curve without the joint part becoming stiff.
Enjoy fishing on bicycles and bikes, fishing between trips, and a full-fledged plowing with a handy Traveler.